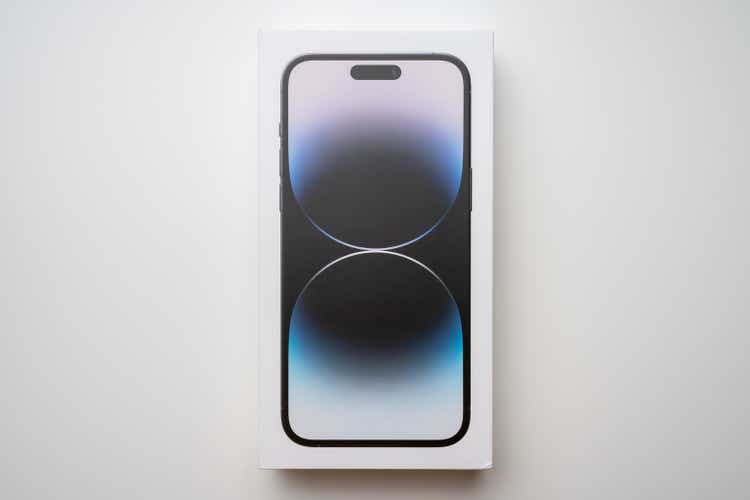 Apple's (NASDAQ:AAPL) annual product extravaganza coming up this week may well end up being a bit of a yawn. And that's just fine with analysts.
The event is likely to only introduce incremental improvements, like the forced-switch to USB-C charging ports and titanium casing, and make no big splashes.
It's precisely that consistency in advancements in exchange for incremental price increases that makes Apple (AAPL) a winner, said Jefferies analyst Andrew Uerkwitz.
"Apple has been very consistent in its build quality, software updates, and in turn, market share gain," Uerkwitz wrote in a note to clients. "Moreover, it has also consistently showed that incremental improvements are a fair trade for incremental price increases."
A little quiet may be a welcome respite after shares dropped off 6% on reports that China may ban government officials and state-controlled companies using the tech giant's products. To add insult to injury, investment firm Needham Securities said Apple is a laggard in artificial intelligence compared to Amazon (AMZN), Alphabet (GOOG) (GOOGL) and Microsoft (MSFT).
The tech giant, however excels at what it does, nailing marketing and presenting new products despite concerns about slowing or declining interest, Uerkwitz said. It is "well ahead" of other brands and products, Uerkwitz, who has a buy rating and $220 price target on Apple (AAPL), explained.
"At this late stage in the broader hardware market (mobile, tablet, PC) incremental changes with a focus on what matters: build quality, ease of use, and camera, Apple is doing what it needs to do," Uerkwitz added.
Morgan Stanley analyst Erik Woodring, who has an overweight rating and $215 price target on Apple (AAPL), said the event has historically been a "sell-the-news" event for the stock, but next year's expectations for the iconic device may be too low.
"Despite concerns of a muted iPhone 15 cycle, we have conviction iPhone revs will grow [year-over-year in fiscal 2024] given a growing installed base, easy [year-over-year] comps, pent-up demand and positive mix shift driving ASP growth," Woodring wrote in an investor note.
Woodring added that he expects fiscal 2024 iPhone revenue to rise 8% year-over-year to $218B, well above the consensus estimate, despite the expectation that shipments may be flat year-over-year.
Some on Wall Street expect the iPhone 15 Pro and Pro Max to get a price boost from the iPhone 14 Pro, perhaps as much as $100.
The tech giant is widely expected to unveil four versions of the iPhone 15: the iPhone 15, iPhone Plus, iPhone 15 Pro and iPhone 15 Pro Max, the latter two which will have titanium casing. The biggest change will be that all four models will now use USB-C charging ports, the result of legislation passed in Europe last year that the continent says will reduce costs and electronic waste.
The two base models are also expected to receive Dynamic Island, an interface that was exclusive to the iPhone 14 Pro and Pro Max and lets users see alerts at the top of the screen.
Other improvements include updated chips for all four phones (with the high-end models having a performance edge), improved cameras, new colors and cases.
Aside from the iPhone, Apple (AAPL) is expected to show off updates to its Apple Watch and AirPods product lines, with the AirPods Pro also expected to move to a USB-C charging method.
New features expected to be announced include automatic device switching, the ability to mute and unmute from the headphones themselves and a feature known as Conversation Awareness that automatically mutes media when a person is talking to the headphone wearer, Bloomberg reported.
The Apple Watch is also expected to get updates, with the Series 9 and Ultra getting refreshes. Updates will include new chips and updated performance, along with new materials and colors.
Cupertino, California-based Apple (AAPL) is also likely to discuss the latest versions of its operating systems in more detail after having unveiled them in June at its annual developers conference.