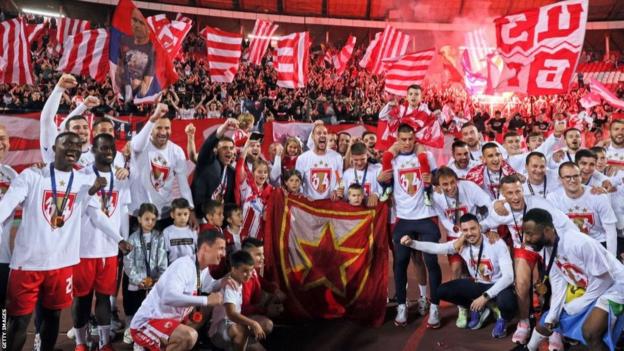 Red Star Belgrade fans see their club as an empire.
As they approach the game at Manchester City on Tuesday (20:00 BST), the facts are simple – both clubs have won the Champions League, previously branded as the European Cup, on one occasion.
Pep Guardiola's troops did it last season, while Red Star lifted the trophy in 1991, but it doesn't really matter as far as heritage is concerned.
"They were the European champions, and nobody can take it from them. As far as the Serbian supporters are concerned, their club belongs among the greats," Mozzart Sport journalist Dejan Stankovic says.
"According to them, Red Star are bigger than Paris St-Germain, because the latter have never won the Champions League. And don't even dare to compare them with RB Leipzig.
"A lot of fans believe that Red Star's success on the international scene was interrupted by the civil war in Yugoslavia. If it didn't ruin everything, the Red-and-Whites from Belgrade would have been as powerful as Benfica and Ajax."
That is why expectations are always too high.
"Public opinion in Serbia would never accept anything but total success," explains Serbian football writer Vladimir Novakovic.
"The national team didn't get out of the group at any competition since 1998, but they are always thought to be favourites. At club level, Serbia didn't have a single win in the Champions League before Red Star famously beat Liverpool in 2018, but they must do so again.
"It is not only related to sports. The sense of self-importance, or even grandeur, is the most confusing thing about the Serbs."
Last season was typical in that respect. Dramatically losing to Maccabi Haifa in the Champions League qualifying play-offs was considered a disaster, and the coach Dejan Stankovic immediately resigned.
His replacement, Milos Milojevic, strolled to the championship title with an almost perfect record of 26 wins and four draws in 30 matches, but that still wasn't enough, as Red Star failed in the Europa League, finishing bottom of the group with six points.
"People were predicting that they would take 12 to 14 points from six matches against Monaco, Trabzonspor and Ferencvaros," Novakovic says.
This season, fans are beaming with optimism more than ever, because for the first time Red Star qualified for the Champions League group stage automatically.
That enabled the club to make thorough plans during the entire summer, both financially and professionally. Korean midfielder Hwang In-beom was purchased from Olympiacos for the club record of 5m Euros (£4.3m), while Senegalese striker Cherif Ndiaye arrived from Adana Demirspor for 4m Euros (£3.44m).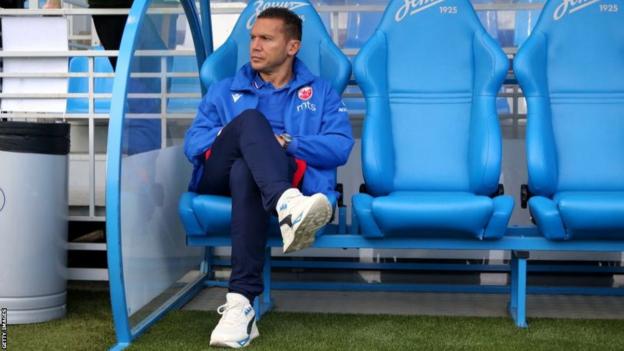 Such expenditures were unheard of in the past, but arguably the most important change took place on the bench. Barak Bakhar was the coach who sent Red Star crashing out of the Champions League a year ago, and the 43-year-old Israeli was signed in May in order to transform the club and make revolutionary changes.
Bakhar's success in his homeland had been nothing short of sensational. He led Hapoel Beer Sheva to their first championship title in 40 years in 2016, then successfully defended the crown in 2017 and 2018.
In 2020, he moved to Maccabi Haifa, the sleeping giants who couldn't finish top for a decade, and duly guided them to three championship titles in a row.
Qualifying for the Champions League group stages and beating Juventus was the icing on the cake. Then he was ready for an experience abroad.
"Bakhar is capable of improving teams and installing a winning mentality, thanks to his tactical skills and leadership qualities," says Walla Sport editor-in-chief David Rosenthal.
"That is why Red Star chose him as they are trying to make a big step forward. The main problem is that it's unclear what would be considered an improvement, because Red Star are dominant in the league and winning the title is taken for granted. He would need to pick up points in Europe to prove his worth."
Club management gave the new coach a free hand to make tough decisions, and several former key players have been discarded, including the Canadian goalkeeper Milan Borjan, a massive fan favourite who was offloaded to Slovan Bratislava.
Israeli keeper Omri Glazer, whom Bakhar brought in his place, was an instant success, and the initial results in pre-season friendlies were exceptionally good. That only made the expectations even higher, though, with the real tests still ahead.
"A foreigner was brought in order to make the necessary cuts without emotion, as some of the players were not up to the standards anymore," adds Stankovic.
"Bakhar has full support so far, and everyone likes the speed of play and the offensive style. In the previous Champions League campaigns, Red Star had less quality and had to play defensively. Now they are capable of attacking – and fans can't wait to see that in Europe."
Keeping expectations realistic could be a problem, though.
"Fans won't be happy if the team is thrashed 5-0 by Manchester City," says Stankovic.
"Everyone understands that Leipzig are a superior and well run club, but they are still considered 'small', and losing to them would be painful. Also, everyone expects at least to finish above Young Boys, which is actually far from certain."
Red Star are shining bright now, but the downfall could be fast.
Serbian press are notoriously merciless when a team fails, and knives are sharpened very quickly if the players and the coach don't live up to that much-remembered level of 1991.